Our website is under renovation
Fuego is open daily from 6pm onwards
To check our menu please follow this link
For reservation click the link below
---
Level 23A, Tower B, The Troika, 19 Persiaran KLCC
50450 Kuala lumpur | +603 2162 0886 | TroikaSkyDining.com
About Us
Fuego is about new twists to classic cocktails.
Fuego is tapas that you have never seen before.
Fuego is sharing with friends and family.
Fuego is the Fire that grills our big slabs of meat.
And Fuego is always a party!
We are open 7 days a week for dinner service in 2 seatings:
1st seating
6.30pm to 8.30pm
2nd seating
8.30pm onwards.    
3rd seating 
To discover in 'news'.
"Food for the body is not enough. There must be food for the soul."
Dorothy Day (Dorothy, not Doris!)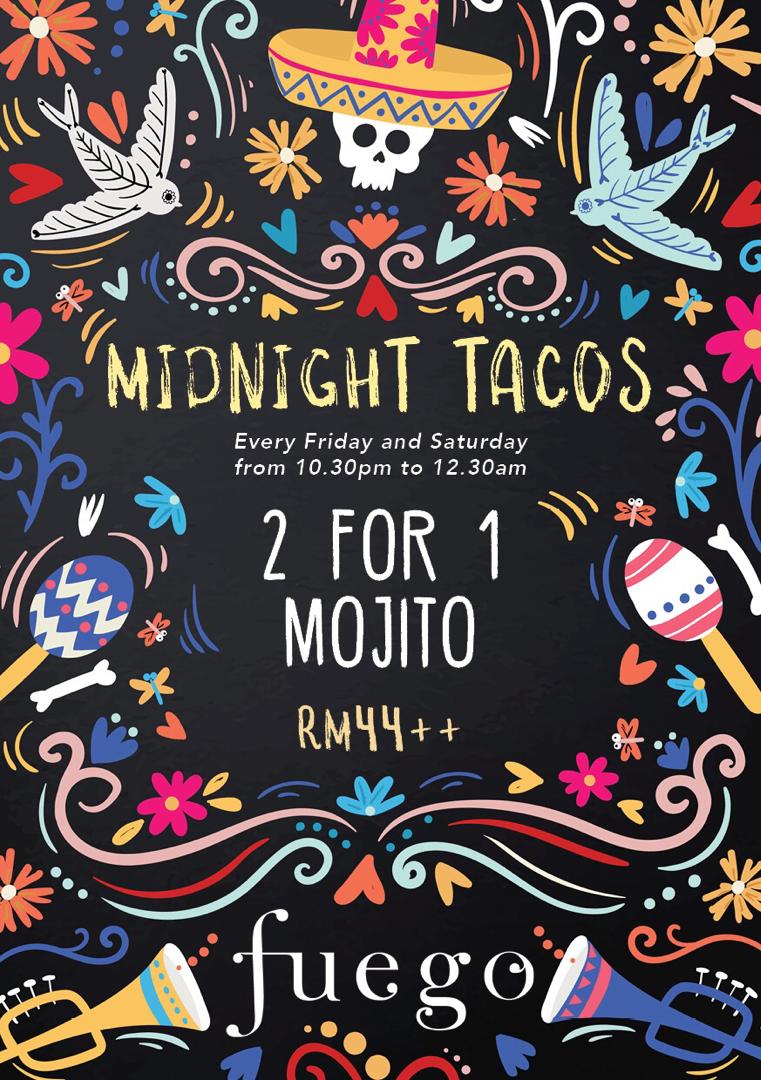 MIDNIGHT TACOS
If you want to chill, nibble and sip, join us every Friday and Saturday night from 10.30pm to 1am.
Bring your weekend up a notch with delicious tacos and some of the best tequilas in town.
Mezcal!
Join the Mezcal movement…
It's distinctive flavour and artisanal way of making has historical and cultural significance but most of all, it is a high quality product, screaming for the attention it deserves.
Menu
Guacamole
The Fuego Guacamole
Freshly Diced Avocado, Green Chili, Tomato, Cilantro, Garlic, Lime
RM 28
Smoked Eel Guacamole 
Wood Smoked Garlic, Picked Fennel, Chili, Smoked Eel
RM 38
Super Spicy Guacamole
Avocado, Red & Green Chilipadi, Cilantro, Garlic, Lime, Ancho Chillies
RM 28
Olive & Caper Guacamole
Avocado, Tomato, Kalamata Olives, Capers, Basil, Roast Garlic, Vinegar
RM 28
Pickled Prawn Guacamole
Avocado, Pickled Prawn, Coriander, Green Chili, Lime, Crispy Prawn Head
RM 38
All prices are in Malaysian ringgit and subject to 10% service charge + 6% government tax
Ceviche

Fuego Ceviche
Barramundi, coconut tiger's milk, shiso gremolata, vinegared puy lentils, toasted coconut
RM 32
Snapper Ceviche
Coriander tiger's milk, konbu soaked wakame, pineapple ancho chili dressing
RM 35
Prawn Ceviche
Habanero chili, avocado salsa, cayenne dust baby corn, -20c popcorn rocks
RM 42
Torched Salmon Ceviche
Torched salmon, yuzu, wasabi, preserved lemon, cucumber pickle, salt foam, Tequila, red seaweed
RM 48
All prices are in Malaysian ringgit and subject to 10% service charge + 6% government tax
Taco

Chicken Taco
Cumin and & Lime Chicken, Chilli Mayo, Avocado, Lime
RM 25
Beef Taco
Chipotle Braised Short Ribs, Salsa Negra, Oregano
RM 28
Fish Taco
Buckwheat battered Barramundi, Yuzu Aioli, Fresh Arugula, Jalapeno and Pear Salsa
RM 25
Avocado Taco (V)
Avocado, Mango & Habanero Salsa, Carrot Mole, Wild Arugula, Cumin Toasted Pistachio
RM 25
All prices are in Malaysian ringgit and subject to 10% service charge + 6% government tax
Little Plates
Salt Baked Potato & Foie Gras
Sage Hollandaise, Balsamic Reduction, Salt Dust
RM 70
Soft Shell Crab as Nachos
Crab Nachos, Avocado Mayonnaise, Sour Cream, Tomato Dice
RM 45
Argentinian Squid
Spiced Grilled Argentinian Squid, Smoked Chili Aioli, Smoked Garlic, Squid Ink Cracker, Pineapple Salsa
RM 35
Grilled Watermelon
Watermelon, Pickled Tomatoes, Fried Halloumi, Raspberry Vinegar Glaze
RM 37
All prices are in Malaysian ringgit and subject to 10% service charge + 6% government tax
Little Plates (next)
Nacho Churros
Parmesan & Roast Garlic Butter Churros with Nacho Salsa And Duck Bacon
RM 30
Corned Beef Croquettes
6 Hours Slow Roast Corned Beef, Beef Glaze, Onion And Parsley Gremolata, Baby Coriander
RM 35
Cauliflower Steak
Shiso Gremolata, Parmesan And Almond Soil, Lemon Zest, Cumin Toasted Pistachio
RM 30
Fresh Corn on the Cob 'Elote'
Grilled Corn, Shave Pecorino Cheese, Paprika, Jalapeno Cream
RM 28
Grilled King Prawn (per piece)
Parsley & Wasabi Butter Gratin
RM 35
All prices are in Malaysian ringgit and subject to 10% service charge + 6% government tax
Big Plates
Grain Fed Prime Rib  (±1.3 kg)
Chimichurri, Gooseberries, Red Wine Sauce
RM 350
Rare French Beef Flank (±500g)
Peaty Whiskey Salt Rub, Yuzu & Black Pepper Sauce
RM 150
Australian Grass Fed
Rib-Eye (±350 gr)
Cambodian Kampot Pepper Rub, Red Wine & Grelot Onions Sauce
RM 150
Lamb Ribs (±500 gr)
Smoked paprika chimichurri, dastardly hot sauce
RM 130
Angus Beef Back Ribs (±750 gr)
Orange, Cider Vinegar, Honey Glaze, Marmalade
RM 155
All prices are in Malaysian ringgit and subject to 10% service charge + 6% government tax
Big Plates (next)
Whole Seabream (±750g)
Smoked Paprika Chimichurri & Lemon Aioli
RM 130
Chermoula Chicken 
(±1.5 kg)
Hot Diablo Sauce
RM 120
Seafood Moqueca
Snapper, Brown Clam, Mussel, Stuffed Habanero, Brazilian Rice
RM 130
 All prices are in Malaysian ringgit and subject to 10% service charge + 6% government tax 
Sides
Pressed Potato
Baked Desiree Potatoes Flattened by Hand, Black Olive Tapenade
RM 25
Yuca Con Mojo
Fried Cassava, Chili, Coriander, Sour Cream
RM 25
Spinach Hashbrown
Shredded Potato, Baby Spinach, Sour Cream
RM 25
Mushroom
Portobello, Eryngii, Pickled Enoki, Garlic Cream Cheese
RM 25
Grilled Zucchini
Grilled Zucchini, Inhame Cubes, Picked Baby Zucchini, Parmesan Foam
RM 25
Fresh Leafs
Mixed Salad Bowl, Charcoal Roasted Onion, Lime & Ginger Dressing
RM 25
All prices are in Malaysian ringgit and subject to 10% service charge + 6% government tax
Desserts
Coconut Passion
coconut Mousse, Passion Fruit Puree & Passion Fruit Rock
RM 38
Neapolitan Ice Cream Bar (Alc/ Non-Alc)
Strawberry, Vanilla & Chocolate Ice Cream, Shooter
RM 48/30
Fuego Churros
Cinnamon Dust Churros, Dulcey Cremeux, Salted Caramel Espuma
RM 35
Berries Pavlova
Dome Pavlova, Vanilla Chantilly, Macerated Berries, Flambé Brandy
RM 35
Chef Ivan's Opus Ice Cream
Homemade Banana & Salted Caramel Ice Cream Bar, Crunchy Cookie & Banana Cream, Vanilla Aroma
RM 30
All prices are in Malaysian ringgit and subject to 10% service charge + 6% government tax
Cocktails
Fuego Mojito 
Rum Instant Infused with Lychee, Chilli, Mint & Lime
RM 44
Barrel Aged Negroni
Your Choice of Bourbon, Mezcal or Gin, Mixed with Barrel Aged Campari and Antica Formula
RM 48
Caipirinha Fuego
Cachaca Velha, Lime, Chilli, Homemade Apple Soda
RM 42
Fuego Cooler
A light blend of Cava, Peach, Grapefruit, Mint, Cucumber & Orange
RM 46
Fuego Dark & Stormy
Rum, Calamansi, Homemade Ginger Beer & Gunpowder Bitters
RM 44
Moskow Mule
Russian Standard Vodka, Lime, Angostura Bitters & Ginger Beer
RM 46
All prices are in Malaysian ringgit and subject to 10% service charge + 6% government tax
Cocktails (next)
Fuego Margarita
Tequila, Cointreau, Charcoal Grilled Lemon
RM 46
Fuego Pisco Sour
Pisco, Yuzu, Sugar, Peach Liqueur & Bitters
RM 44
Fuego Mai Tai
Plantation Aged Rum, Fire Water Tincture, Lime, Orgeat & Dry Curacao
RM 44
Fuego Whiskey Sour
Smoked Bourbon, Lemon, Homemade Corn-Butter Syrup & Cayenne Pepper
RM 48
Gin & Juice
Gin, lime & Grapefruit Soda
RM 42
Rum & Coconut
Nothing More, Nothing Less
RM 40
All prices are in Malaysian ringgit and subject to 10% service charge + 6% government tax